Step 1: Adding a New Grant Cycle
*Please note that all grant cycle intake forms should be completed 5 business days prior to the announcement date/launch to allow the JustFund team to review and approve the RFP.
To set up a new grant cycle, login to your account and click on the GRANTS tab on the left hand side of the top menu bar. Then, click the ADD NEW GRANT CYCLE button.

Fill out each section of the grant cycle intake form. Hit NEXT to continue through the form.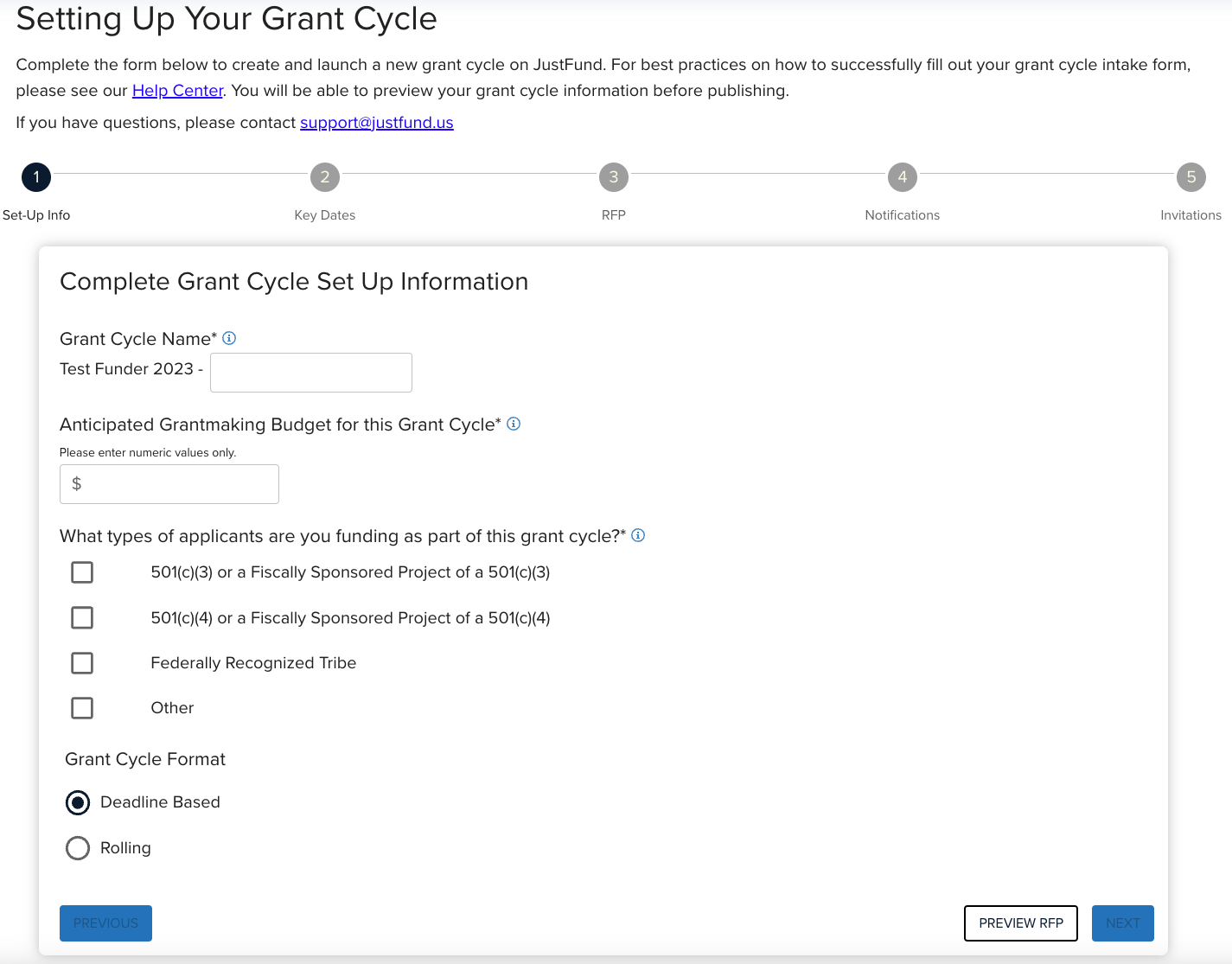 Step 2: Key Dates
Please fill out the applicable dates to support your RFP. The RFP will be visible to applicants on Announcement Date.
Announcement Date: Applicants will be able to apply to the grant cycle on the indicated announcement date/time. JustFund requires that all announcement dates be scheduled Tuesdays - Fridays at 6:00 AM Pacific Standard Time to ensure that JustFund staff are available to provide assistance.
Deadline Date: The RFP will no longer be available to applicants after the deadline date/time. JustFund requires that all deadline dates be scheduled Tuesday through Thursday with the application period closing at 5:00 PM PST/8:00 PM EST.
Decisions Announced: This is the date your applicants should expect a decision from the grantmaking body. This date is visible to applicants when applying.
Grant Disbursement Date: If you're a Full-Service Partner, this is the estimated date that JustFund will issue grants via Amalgamated Charitable Foundation.
These dates and times are set to follow best practices and ensure staff are available to provide any necessary technical support.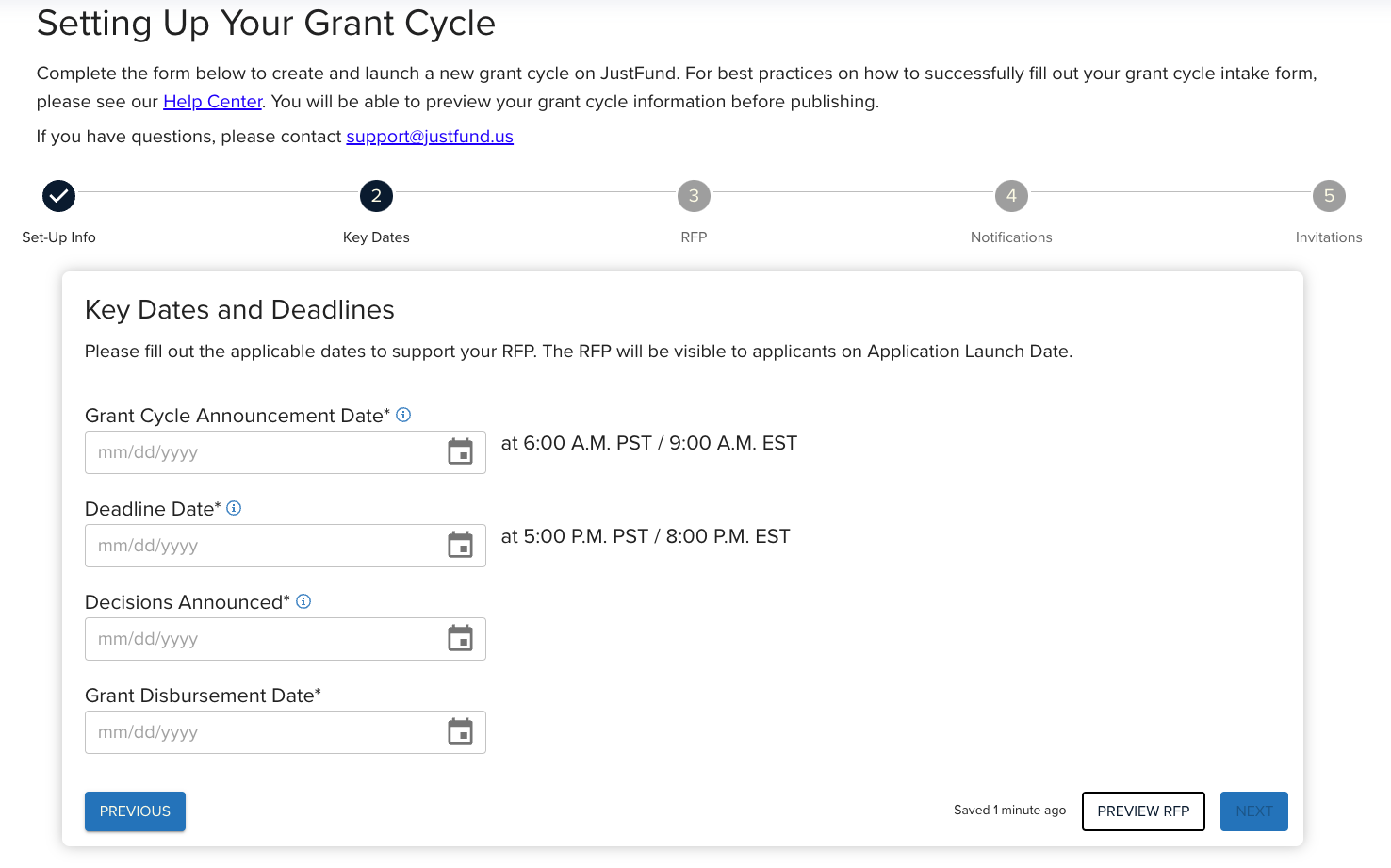 Step 3: Filling out your RFP
Please fill out the fields in the intake form to create your request for proposal (RFP) page. You will be able to preview your RFP before it becomes live.
Applicants will be able to read any information including about the fund, eligibility criteria, key dates, and more. If your grant cycle is invite-only, only the applicants that you have invited in Step 5 will be able to view the RFP. If your grant cycle is open, all applicants on JustFund will be able to view and apply to your RFP.


Important tip: If you would like to collect additional information beyond JustFund's Common Application, you can add up to 3 supplemental questions and request up to 3 attachments from applicants. Responses to these additional questions and attachments will only be visible to your fund.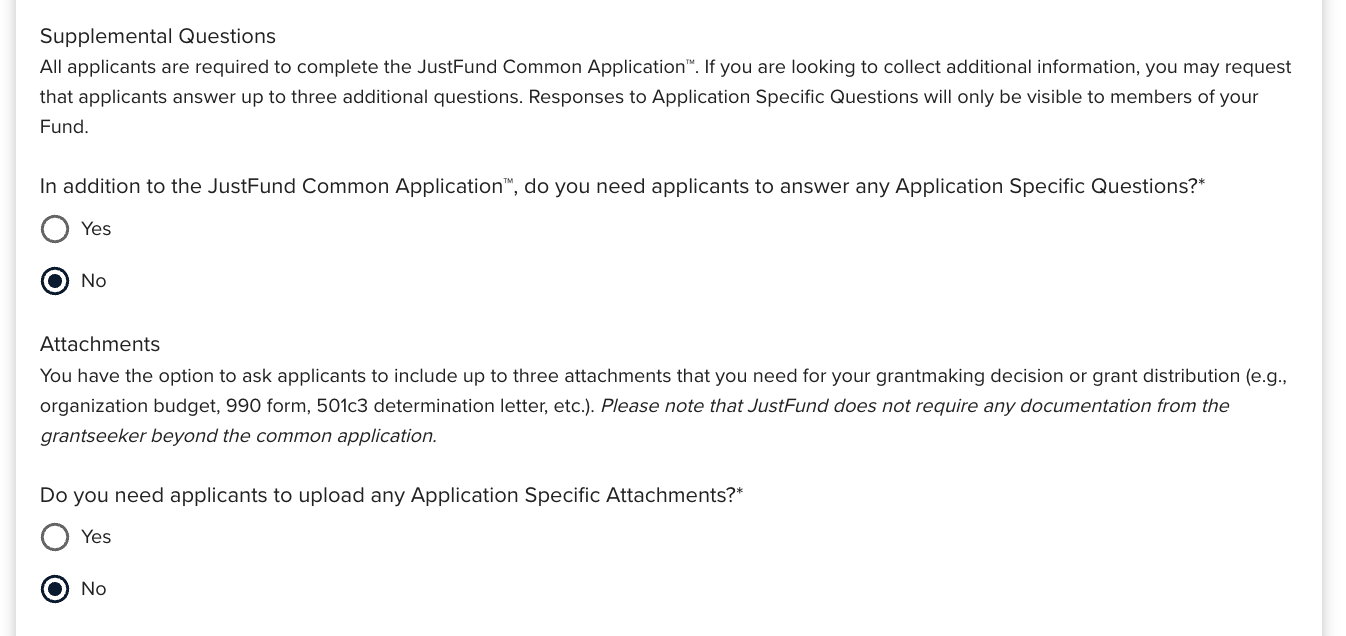 You can also update the visibility of your RFP.
Not Public - RFP is only visible to applicants when logged into the JustFund platform
Public - Applicants without a JustFund login can view the RFP outside of the JustFund platform
Step 4: Notifications
Please indicate whether you'd like JustFund to manage any communications for your grant cycle.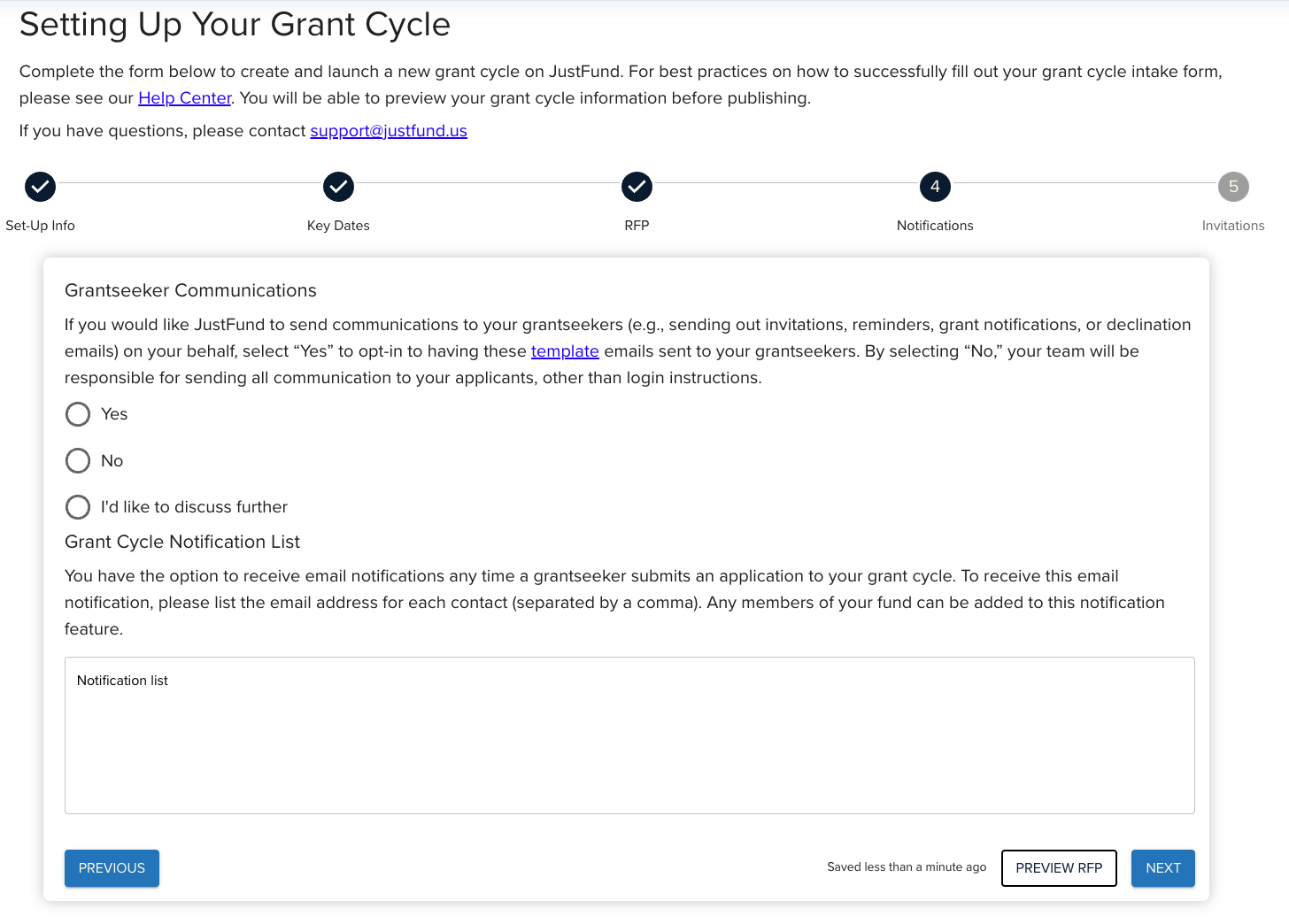 Step 5: Invitations
You will need to select if you are running an Open or Invite-Only cycle. If you are running an invite-only cycle then you will see the INVITE GRANTEES page. To invite grantees to apply for your funding opportunity, click "+" in the table below. You can add a grantee that currently has a JustFund account, or you can invite a new applicant to JustFund.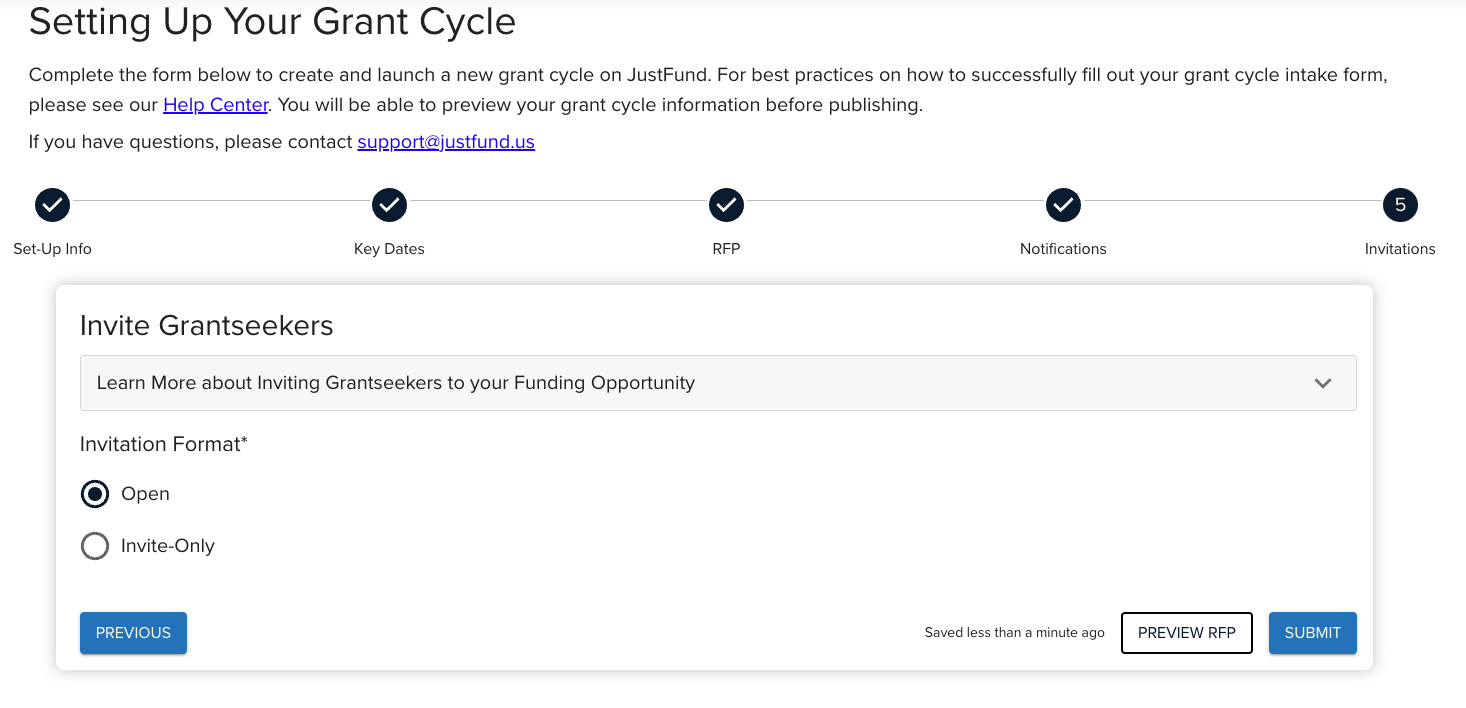 To invite applicants to your funding opportunity, start by searching through existing applicants on JustFund in the SEARCH BY APPLICANT NAME table below. Once you have found a match, click the + icon to add the applicants to your invitation list.
If your search does not find an existing applicant account, click the CREATE NEW APPLICANT ACCOUNT button below and complete the relevant fields. This will invite the applicant to set up a JustFund account and allow them to apply to your RFP on the indicated announcement date.
On the indicated announcement date, your RFP will become available to invited applicants. If you opted into JustFund sending applicant communications, applicants added to your invitation list will receive invitation emails on the Announcement Date, and reminder to apply emails throughout the cycle.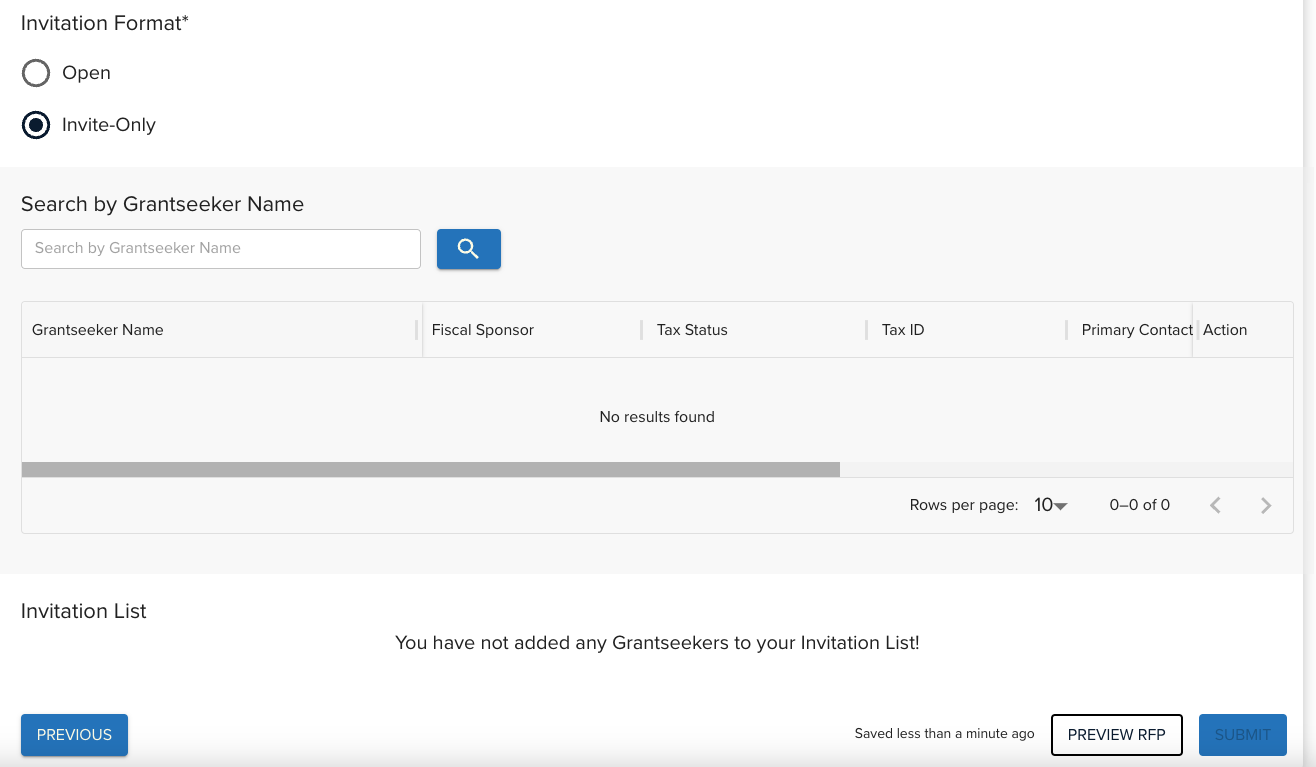 Step 6: Submitting your grant cycle intake form
Once you click SUBMIT, you can go to GRANTS and click PREVIEW to view the RFP as it will appear to your applicants.
A member of the JustFund team will reach out after we receive your submission and have reviewed the content. If there are no additional questions or edits, you will receive an email from the JustFund team confirming that the grant cycle will launch and the RFP will go live on your scheduled announcement date.
Editing Capabilities:
Note: If RFP has not been submitted, the funder can always click the Edit icon on the Grants page to be brought to the latest saved iteration and continue editing.
Once in "Approved" Status, the funder will be able to edit ALL intake form content and dates up until 48 business hours prior to the announcement date of the RFP.
Grant Budget and Key Dates will be the only editable fields once RFP is active.
Important Considerations:
If your deadline date is being extended, please login to the JustFund platform and edit the deadline date on your RFP. This will send a notification to the JustFund Customer Experience Team to review the update.