Your organization's profile is part one of the Common Application! You must publish the profile first in order to view and apply to available funding opportunities. Your profile information will be included on all applications you submit. A published profile is also visible to the hundreds of funders using JustFund's platform. Funders can review your organization's critical work and choose to move money to the organization at any time.
Your profile will consist of the following fields:
Your mission statement and team description
If your organization is BIPOC-Led and how you define this
Which communities you serve, your strategies, and where you engage
Financial Information
Links to your website and social media accounts
Upload photos to tell your story
To improve the likelihood of connecting with funders aligned with your organization's mission, it's important to regularly update your organization's profile.

To update your profile, click on the organization's name located in the top menu bar. In the Organization's profile page, review the information and materials in the Details and Media tabs and make changes as needed.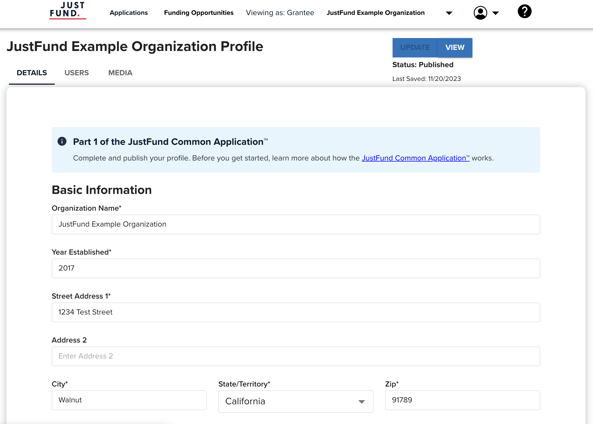 You can view your changes at any time by clicking on Preview.

When you're ready to publish the updated profile, click Update at the top of the Details or Media tab.