Organization Profiles give you the ability to tell your story, share photos, and aggregate all of your proposals!
While some funders may still request and fund proposals, our hope is that more funders will be able to just review your Organization Profile and the existing proposals you've submitted to date, and decide to move more money to the critical work you are doing.
Here are some of the things that can be displayed on your profile:
Your Mission Statement and what your organization does
If you are BIPOC-Led
Which communities you serve, your strategies, and where you engage
Your active proposals on JustFund
Who has funded your organization & proposals on JustFund
Total amount of funding you've received on JustFund
Links to your website and social media accounts
Upload photos to tell your story
To update your Organization's Profile, click on your organization's name in the top menu bar and fill out all the sections under the Details and Media tab. At any point, you can look at how your profile looks by clicking on 'Preview Profile'.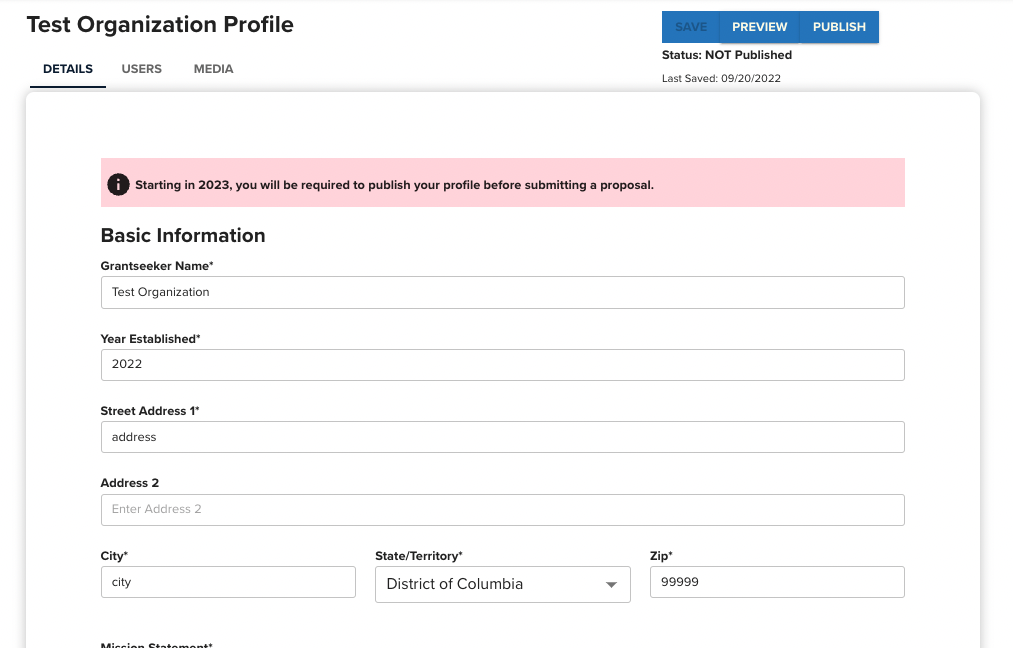 Once you're ready to publish your Organization Profile, select "Yes" at the bottom of the Details tab next to, "Are you ready to publish your Organization Profile page?" and then click 'Save'.
You must opt-in to publishing your profile in order for funders to view it and in order to submit a proposal to a funding opportunity. Make sure to publish your profile so that funders can see the amazing work you are doing! And remember to keep your information regularly up to date as this content will be visible to all JustFunders on the portal and on all proposals you submit.